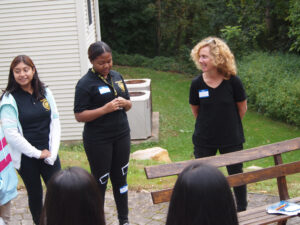 At Carver High School, the Spring semester presented Inner Strength with a unique opportunity to further support students and help them become strong leaders. This year's seniors took the Inner Strength training first as sophomores in 2019, and then again during the fall semester of this academic year. This design encouraged the teens, through their own maturation process, to contemplate their own understanding of mindfulness, and deepen their personal practices over the course of two years.
Inner Strength Instructor, Julie Coopersmith, partnered with Carver staff who are responsible for the Senior Seminar project (a research paper that all seniors are required to complete in order to graduate), to develop an alternate option for students to co-teach the mindfulness program to their sophomore peers.
Two seniors, Sierra Jones and Simir Hampton, volunteered to participate in this unique senior seminar experience, first observing two classes, and then planning and leading seven mindfulness classes over the course of the spring semester!  The two students wrote and conducted meditations, led class discussions and small group activities, and supported teens in becoming leaders in both the classroom and the school community. It was an amazing journey for everyone involved.
Over the next 2 blog posts you will get to hear from our seniors as they describe what it meant to them to be co-teachers of mindfulness.