Syracuse University Study
Shows Positive Results
Starting in 2015, Syracuse University began multi-year research study to determine the impact of the Inner Strength Teen Program on its high school participants. The scales chosen measure quantifiable improvements in several key metrics: Self Regulation, Self Compassion, and Perceived Stress.
Teen mindfulness research studies showing improvement in self regulation give a quantifiable way to tell if – as a result of training or intervention – students are better able to manage their emotions, desires, fears, frustrations. Improvements indicate that kids are able to postpone short term reactivity for longer term results. They are better able to keep their focus when the environment around them is attempting to pull their attention away from the task at hand.
Among those students in the Inner Strength Teen Program who were tracked for 12-weeks with pre- and post tests, a statistically significant percentage showed measurable improvement both in self regulation and in self compassion (the perceived stress index was introduced following these results, reports will be available in 2019). The results to date are very encouraging, confirming the anecdotal reports from teachers, principals, and the students themselves.
To further study the effects of the program, and to continue to improve the curriculum, the study has be expanded and will continue for another year.
Access the researchers' writeup of their findings to date here.

Excerpt from the ECNU Review of Education, April 2021, Drs. Razza, Bergen-Cico et al.
"Evaluation of the high school program found statistically significant improvements (p< .05) in long-term self-regulation and self compassion. The researchers are continuing to conduct evaluative research with children participating in the Inner Strength Program in grades 10-12."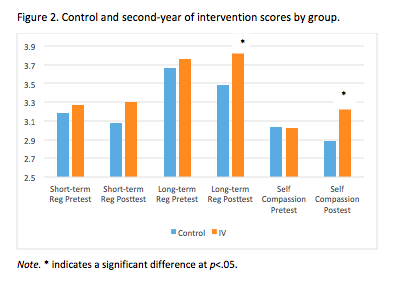 Rachel Razza, Ph.D., is an Associate Professor in the Department of Human Development and Family Science at Syracuse University. Her research focuses on self-regulation in children and youth. Specifically, her work explores contextual predictors of self-regulation, and implications of various self-regulatory skills for children's school readiness and later school success. Her recent work examines mindful yoga as an intervention strategy to enhance these skills among children. Dr. Razza teaches courses on child development and developmental theory and serves as the Graduate Director and coordinator for the Mindfulness and Contemplative Studies minor.
Dessa Bergen-Cico, Ph.D., is an Associate Professor in the Department of Public Health at Syracuse University, a Certified Addiction Specialist (CAS), and is a Certified Mindfulness Based Stress Reduction (MBSR) Teacher. She teaches and conducts research on the efficacy of mindfulness-based practices for fostering self-regulation among children and adults, reducing trait anxiety, reducing posttraumatic stress, and prevention of addictive behaviors. She is also the author of the book War and Drugs: The Role of Military Conflict in the Development of Substance Abuse.
Dr. Razza and Bergen-Cico have been collaborating as independent evaluators of mindfulness-based interventions for children and youth since 2012. Their research has examined the effectiveness of multiple mindful yoga programs for children from preschool through middle school as well as mindfulness-based curricula for high school students. Collectively, their work has highlighted the benefits of these programs for aspects of children's self-regulation as well as related socioemotional competencies including empathy and compassion.
The following is a partial list of publications Dr. Bergen-Cico and Dr. Razza have written on the efficacy of yoga and mindfulness-based practices.

— Bergen-Cico, D., Razza, R., & Timmins, A. (2015) Fostering mindfulness and self-regulation through curriculum infusion of mindful yoga: a pilot study of efficacy and feasibility. Journal of Child and Family Studies. Online First. 1-14. doi 10.1007/s10826-015-0146-2

— Razza, R. Bergen-Cico, D.K. & Raymond, K. (2015) Enhancing preschoolers' self-regulation via mindful yoga. Journal of Child and Family Studies, 24(2); 372-385. doi.org/10.1007/ s10826-013-9847-6

— Bergen-Cico, D, & Cheon, S. (2014) Mediating role of mindfulness and self-compassion in reducing trait anxiety. Mindfulness. 5(5) 505-519. doi:10.1007/s12671-013-0205-y

Bergen-Cico, D, Possemato, K. & Cheon, S. (2013) Examining the efficacy of a brief mindfulness based stress reduction (Brief MBSR) program on psychological health. Journal of American College Health. 61(6) 348-360.
To find our more details about our
ongoing research, contact us.
When our school expanded meditation for more students, the results were palpable throughout the school. Students are now calmer, less reactive, and generally seem more content and focused.
In our incredibly complicated world, it's good to know that we, as a school, are not only preparing our students academically, but also giving them the tools provided through mindfulness training with the Inner Strength Program. Our students report that they are now able to step back from the stresses of life, and choose to approach things from a perspective that better serves them. They can see systemically and also stop and take a look at what's really going on inside.
Our students definitely benefited from participating in the Inner Strength Mindfulness class. They said that they were glad to practice in class because they might not have done so on their own, and it was a well-needed time to relax during a hectic school day. Some also said that the benefits continued beyond the class period as it helped them to ward off stress and sleep better at night. Many were excited to learn a skill that is useful now and will also be useful in the future.
Staff Development Programs
Parent Night Presentations
Teen Mindfulness Retreats & Fieldtrips
CONTACT US FOR MORE DETAILS ABOUT THESE PROGRAMS.