Professional
Development & Resources
For teachers of the School District of Philadelphia
These videos and resources are designed to help you bring mindfulness
and social-emotional learning into your classroom this year.
Self -Care PD for Teachers
How will you take care of yourself and your students as we all return to school? How do you sort out your excitement and concerns? This video includes insights about this year, along with practical tools to manage stress, uncertainty, and improve classroom culture. (24 MIN)
Easy to Use Slide Decks for Advisory
Longer Advisories this year? No need to stress about creating valuable material to use. These Explore & Restore Activity Sets (slide decks) are easy to use and help guide students in positive exploration and self-care practices.  Creative and colorful, they help students work with challenges and build motivation. (6 MIN)
Explore & Restore Slide Decks
Mindfulness & SEL Tools
for Advisory
Logging into the Explore & Restore Activity Sets is easy. Here's a quick demo how.(2 MIN)
How to use in your classroom
Easy to use, this short guide shows you the curriculum outline followed in each Explore & Restore Activity Set. 
Each  Activity Set has 4 slides, with a theme reflection, journal or pair-share activity, and a mindfulness practice or two. There are 24 sets in all, which will take you through the year. (5 MIN)
Inner Strength Vibe mobile app for students
The free Inner Strength Mobile App, available on the GooglePlay and the App Store is a great resource for students to practice self care and mindful awareness wherever they are. Learn about the features of the app. (5 MIN)
Mindfulness & Movement video program for Advisory
The Building Inner Strength video program takes students through mindful awareness activities, brain science, mindful movement, reflection activities in 8 themed modules, designed for Advisory, Health, or other classrooms. This video gives you SEL learning objectives for each of the modules. (10 MIN) How to log in to BIS here. (3 MIN)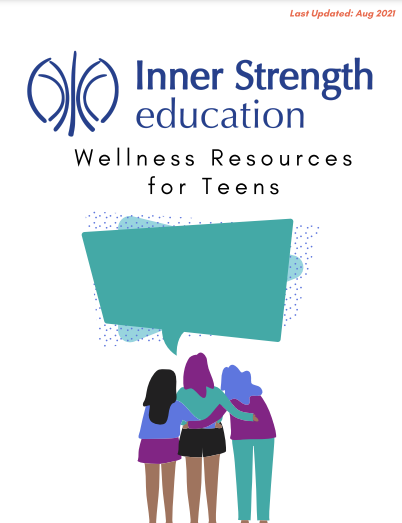 Mental Health Resource Directory
This youth-friendly specially curated Mental Health Resource kit provides a curated list of national and local free mental health resources. BIPOC and LGBTQ friendly.
Self Care for Climate Managers,
Support Staff & Teachers